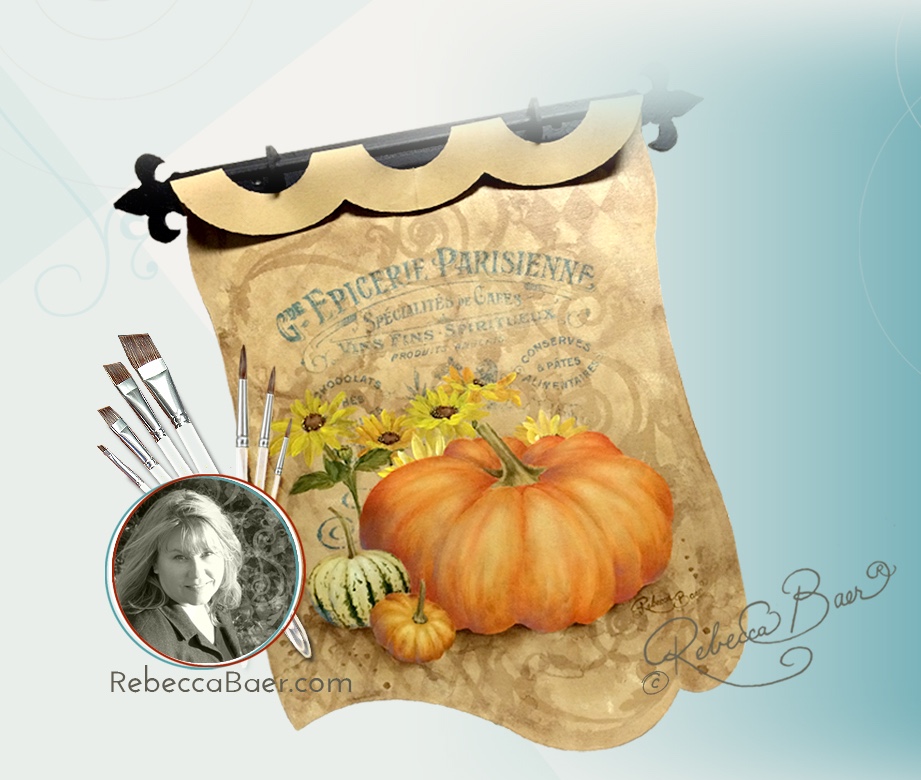 Autumn charm abounds with this fun vintage-esque banner! As you paint along with Rebecca you will develop and refine your floating, dry brushing and blending techniques and end with a beautiful project. This eCourse video is divided into segments allowing you to complete bite-sized pieces and then pick up with the next session without trying to find your place each time in the full length video. You can also watch and repeat each demonstration as many times as needed before moving to the next element.
This original design by Rebecca Baer® is shown painted on a uniquely shaped banner displayed on a faux iron hanger. Order your surface kit here.

1hr. 39min. Total time
Enrolling in this course will automatically add your email to the "RB eCourses for Creatives" mailing list. You will receive occasional updates regarding the courses offered here.
Welcome!
---
Our students say it best...


If I can offer a review, I loved this project, one of my favorite paintings ever! It so wonderful to watch Rebecca paint, just watching her made me understand techniques better! A very peaceful video (background music), filled with great techniques!
-M. L. Greenlawn, N.Y.
Rebecca, I enjoyed this lesson so much!!! It was so easy to follow. It is such pretty design. I finished my painting and when my family sees it...I can just hear.. "Mom paint me one", LOL Looking forward to more of these type classes.
Thank you so much!!
-A. L. Asheville, N.C.