Merry & Bright
---
I'll help with the lights but I am not wearing the hat.
How fun! A rooster with an attitude.
Painted in acrylics and designed as a floorcloth, this beauty would work equally as well as a table mat or wall hanging.
Everything you need to know to paint
this delightful canvas, one step at a time.
---
This project format is an eTutorial rather than a video course. It is presented as a series of slides including step-by-step instruction along with photos of each stage. Instructions are expanded and explained via audio.
This original design by Rebecca Baer® is shown painted on a uniquely shaped layered canvas. Order your canvas surface here.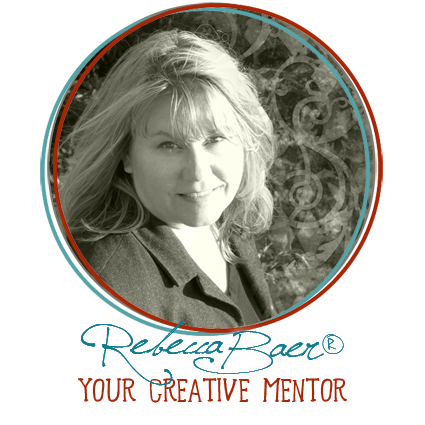 ---
I've chosen to use the title of Creative Mentor rather than instructor because I want you to view me as a partner in your success.


As a professional author, designer and international instructor, my designs and decorative accessories have been published worldwide in books, magazines and tutorials as well as my feature column, with original recipes alongside artful applications. I've created this eCourse site to share the creative fun with you! Perhaps you will be inspired to try your hand at some of the artsy ideas that I toss your way.
---
With a passion for all things creative, I have traveled extensively to share my unique artistic style with enthusiastic co-creatives. Through the magic of Ecourses now you can play too! Jump in and get your hands dirty—it will be loads of fun!