The One Whom My Soul Loves
---
This canvas is a perfect gift for weddings, anniversaries,
a couples' first Christmas or your own love nest.
In this course you will learn how to:

Produce embedded stenciling, an original technique that is versatile enough to stand alone or play a supporting role

Create a multi-hue background using sprays

Antique with acrylic paint and get luminous results

Paint pattern-based beautiful script

Paint quick & easy accent elements such as leaves, berries and blossoms


Create coordinating accessories
All water-based media
---
Enrolling in this course will automatically add your email to the "RB eCourses for Creatives" mailing list. You will receive occasional updates regarding the courses offered here.

Our students say it best...
Rebecca you are so talented and so creative!!!! I don't know how you come up with the beautiful things you do. I really enjoyed watching the online video and want to try that method...You kept me guessing all the way through as to what you were going to do next. Thank you so much for sharing this beautiful painting!!!
-A. L. Asheville, N.C.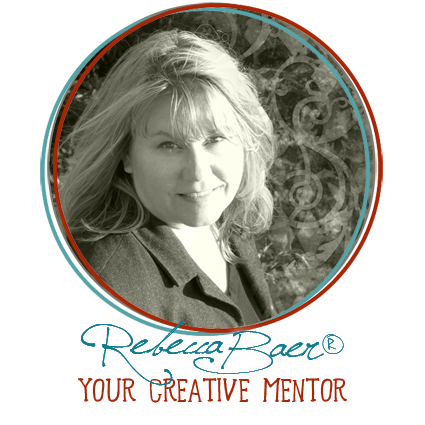 ---
I've chosen to use the title of Creative Mentor rather than instructor because I want you to view me as a partner in your success.


As a professional author, designer and international instructor, my designs and decorative accessories have been published worldwide in books, magazines and tutorials as well as my feature column, with original recipes alongside artful applications. I've created this eCourse site to share the creative fun with you! Perhaps you will be inspired to try your hand at some of the artsy ideas that I toss your way.
---
With a passion for all things creative, I have traveled extensively to share my unique artistic style with enthusiastic co-creatives. Through the magic of Ecourses now you can play too! Jump in and get your hands dirty—it will be loads of fun!
Course Curriculum
Pattern & Text
Available in days
days after you enroll